Sourcing towels in China is never as convenient as today, but it is never an easy job, it demands a lot of energy and time, and you will be obliged to wait for unpredictable upshot until consignments arrived.
On the flip side, towels manufacturers in china are in the similar situation.
Cotton towel manufacturers most are locate in Huaian District,Huaian City, Jiangsu province. Through years development, the towel weave looms are mainly air jet terry looms, which is of high speed, that means high turnover. There are many other area towel manufacturers turn to us for supply, because of super quality and competitive price.
Microfiber towel manufacturers are scattered around Zhejiang, Hebei and Guangdong provinces.
We are the leading woven terry towels manufacturer and custom towels manufacturer specialize in providing 100% cotton quality towels,mats,terrycloth robes at competitive price.
Relatively long-term relationship benefit both buyers and vendors. Buyer keep changing supplier or vendor has no frequenters is an alarm for the company operation.Thank to the up to date techniques communication is not a problem anymore, all we need is knowledge of trade we in and prudence, and integrity.
First off, find a right partner is the first step of success. Then we need to determine what kind vendor we want. There are manufacturer, agency, trade company, and wholesaler.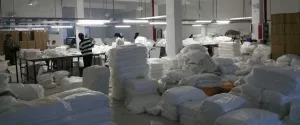 Now consider the merchandise we will purchase. For household textile, the low-valued goods, if they are standard, the wholesaler is good enough, even get better price for same goods than from manufacturers.
we usually use a manufacturer for serving custom made towels, and the manufacturer is preferred for the bulk repeat purchase too.
To work with a custom towels manufacturer or towel factory is simple and easy, ask for their sample of products. A manufacturer's quality almost has no change in a long time period, their equipment, their staff and the boss's attitude determined their level, the quality fluctuate around a certain level. A leap? not likely, a plummet I don't think so.
So if the towels manufacturer has stock of products, ask them send one or several. If it is custom-made, ask them to make one, the sample's quality will be the best of theirs. If you approve the sample then place the order or move on, big improvement is not likely to happen.
I hope you have a great time in sourcing towels in china.